Broccoli & Cauliflower Floretting Field Harvesting Machine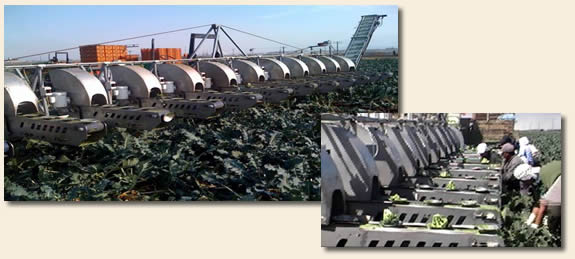 This machine uses a developed "cutting edge" technology to deliver cutting consistency and convenience while minimizing the need for hand labor.
Designed for a large variety of broccoli and cauliflower types and dimensions.
Harvester has the capacity of floretting 52-60 units per minute, or 900 to 1200 lbs per hour with a single-row harvester; 672 units per minute and up to 10,000 lbs per hour with a 12-row harvester.
Reduces labor by 60% over hand harvesting!
Core waste materials are automatically fed out of the harvester.
Harvesters are custom built to your needs (1 to 12 rows) and are 100% stainless steel construction.
Click here to download printable brochure.